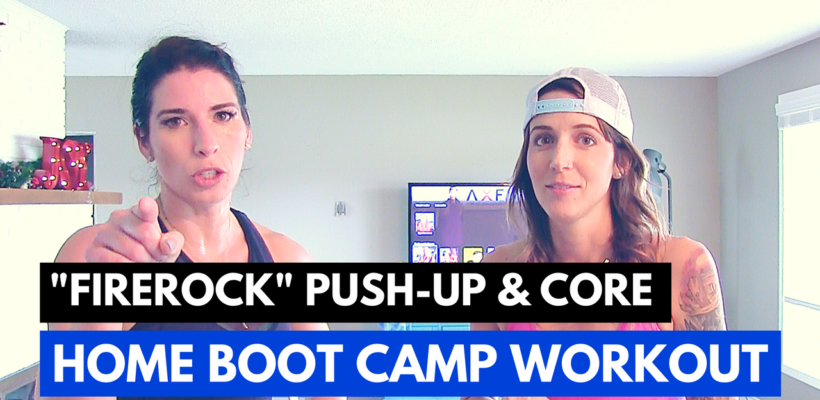 "FIREROCK" 8 minute Push-Up & Core Home Bootcamp Workout
HOME BOOT CAMP WORKOUT IDEAS SERIES:
This home boot camp workout is all push-ups with plank drills in between.  They get your upper body strong and best of all build your core & abs. In this 8 minute home workout were going to do 10 reps of 10 different types of push-ups with 10 second planks in between each push-up exercise. It's going to be super intense so get ready to keep up with Jocelyn! Bring this one with you on the go with our printable version below or do it on your device. Let's do this!
If your looking for a real hardcore workout, do it twice. All you need is a towel or workout mat and a flat surface. Indoor, Outdoor, Beach, wherever!
I've also included a printable image that you can bring with you anywhere by printing out or saving to your desktop or mobile device.
"FIREROCK" 8 Minute Push-Up and Core Home Boot Camp Workout
Client Difficulty: 9/10             Duration: 8 Minutes            Group Size: 1+
Workout Categories: UPPER BODY + CORE + AB
Terrain: Indoor, Outdoor        Equipment: Workout Mat Recommended
Workout Overview:10 reps of 10 different types of push-ups with 10 second planks in between each push-up exercise