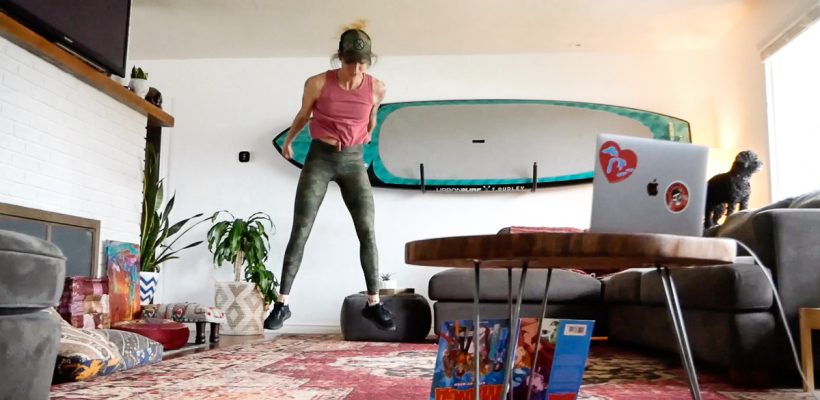 ZOOM Online Virtual Bootcamp Workout Tips & Advice
With the current social distancing and essential business restrictions as fitness professionals we've had to change things up and adapt our businesses. ZOOM is a great tool to stay connected with your clients and continue to kick there butts!
NEW ZOOM WORKOUT NOW LIVE!

ZOOM 35 Minute Full Body Blaster!

35 Min. ZOOM Online Virtual Training Workout + ZOOM Tips & Advice

Workout Categories: ZOOM, Virtual, Full-Body, On-Spot, Body Toning, All Levels, Fat Burn, Cardio, Abs/Core
MY RECOMMENDED ZOOM BOOTCAMP WORKOUT BUSINESS MODEL:
I suggest offering free "large group" ZOOM workout, then have a paid small group "premium" workout or workout program,  and/or paid 1 on 1 sessions.
The large group free zoom workouts are a great way to connect with potential new clients looking for a workout while also giving a workout option for your current clients who may be out of work and without income at the moment.
Make sure to ask any new participants to connect with you on instagram, facebook, or your newsletter. This way you can let them know how to join your regular workouts once things are back to normal. Also, let them know about your paid small group or 1-on-1 ZOOM sessions. When pricing any online virtual workout I would charge 50-75% lower then your regular in-person rate.
USING & SETTING UP ZOOM BOOTCAMP WORKOUTS:
Zoom is constantly updating and has full tutorials and how to's on their website. Check out ZOOM.us. Also, there are lots of additional resources on youtube. Here is a good video tutorial I recommend:
MY ZOOM FITNESS WORKOUT TIPS & ADVICE:
Use the same Zoom link every time.

This is your new gym space! Use the same link so people can always find your workouts.
Muting your Participants.

By default I have not been muting my crew when they arrive. But, once your workout starts, make sure to mute all your participants.
Enable Waiting Room.

When using the free version of zoom you want to maximize your "free" zoom time. Let your crew know to be on-time for the workout and you will let them in right at the start time.
Set a common place where you share your ZOOM Class Information.

You can use your facebook page, group chat, website, fitness app, or newsletter.
Don't stress about the quality.

You do not need professional cameras, lighting, etc. Your clients need a solution and they want to train with you! Be real!
Check sound, lighting and be mindful of time once you start the class.
For music, I recommend sharing a link Spotify Music Playlist with your crew.

They can play it on their own phone or computer in the back ground.
If YOU want to use music too, keep it to a background sound level as it might disrupt the audio and your voice
Watch like a hawk! Do a mix of doing the workout yourself and going up to train, correct form, and motivate your crew!
Use the messaging function to have a message for your crew as they join the waiting room and for anyone who enters late.

Let them know class will begin shortly and to start stretching! For late joiners, let them know you will be checking back frequently to let them into the workout.
BOOT CAMP IDEAS AND INSPIRATION – Weekly Youtube Videos
I've been posting boot camp related videos to my AXFIT youtube channel for over 8 years now! My passion is sharing and inspiring trainers around the world. I share my training style, which i'm truly honoured has become known as "The AXFIT Training Style", which was born out of my journey to give clients a fun, efficient, and no-nonsense workout that builds real results.