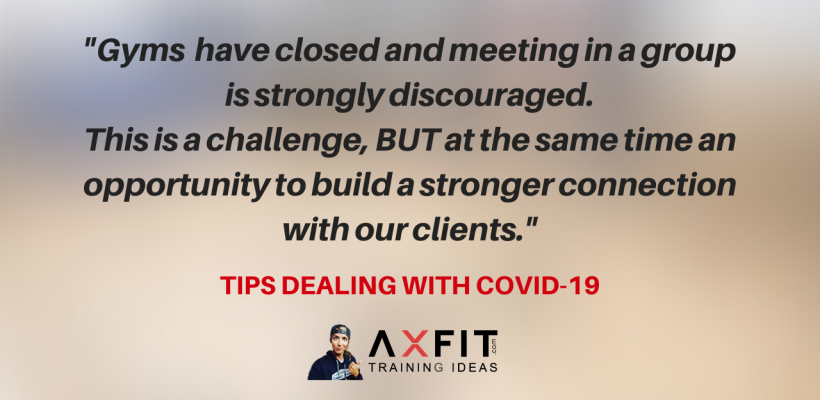 Tips for Fitness Trainers Dealing with COVID-19 "Corona Virus" Social Distancing
Below are "in-my-opinion" some tips for fitness trainers to stay connected with their clients during COVID-19 Social Distancing and Gym Closures.
STAY-CONNECTED
At the time of writing this we are about 1 week into the social distancing measures taken by much of the world. In my area all gyms have closed and meeting as a group is strongly discouraged. This is a challenge, BUT at the same time an opportunity to build a stronger connection with our clients. During this time "I think" your number one mission professionally should be to keep in contact with your crew. Here are some ideas to build connection with your crew without personal contact.
SEND TEXT MESSAGES
Check in with your crew through text messaging, you can even send them a personalized video. Your beautiful face talking to them personally, telling them you are there for them and here to hold them accountable with their own personal fitness goals. Ask how they are doing. How is their current fitness going? Are they getting outside or working out in home? Open up this communication channel and if they need a workout to do at home; have some ready to share. Give ideas on your personal favourite ways to stay active at home. Inspire them to try new things. Yoga, Stretching, Meditation, Running, Home Bootcamp Style Circuits. I have an entire home workout playlist on the AXFIT youtube channel you can share with your crew or search the millions of other resources available online.
NEWSLETTER
If you don't already have a newsletter, get on it! There are lots of free services available. I personally use mailchimp. Use your newsletter to send a weekly or monthly update with workout ideas, fitness tips, recipes, clients highlights, positive news,  things you have planned for classes, or anything else you want to share. Don't over do your newsletter. This is a tool to use weekly, monthly, or in normal times quarterly. Share recipes, some positive news links..etc.
SOCIAL MEDIA
This is an effective way to share information and message your clients. This is a great platform to share workout videos for at home, recipes, ways to keep busy at home, inspiration, and other ways to stay connected. Let them know about your newsletter and ask them to share post about their current fitness routine with you. Share what you're up to. Social Media is about being personal. Try to avoid just re-posting/sharing from other sites or just putting up quotes. Create real unique content through pictures and/or video. Show that you're walking the walk. Share pictures of your home workouts, you're recipes, and how you're spending your time.
Maybe it's a good time to do a little "in-home" Workout Challenge. Think up something cool that your whole crew and maybe even then some could join. A free, fun workout challenge! Maybe they have to post their workout everyday and a recipe to gain points…then in 3-4-6 weeks you add up the points. I am sure you can think of something super unique and fun that can be done right from their homes. Think about it and try something out, I find keeping challenges to under 6 weeks have the best results, anything longer people fall off.
…A PHONE CALL. Yes. A Phone Call.
Phone calls are powerful. Connect with your crew to see how they are doing and let them know you are available to keep their fitness and health a top priority in their lives. Call one or two clients each day, this will make them feel the love and keep you in the loop.
YOUR MESSAGE
When communicating with your clients focus on your speciality…FITNESS. There are plenty of credible sources providing updates on COVID-19 and lots sharing their opinions on various platforms about the virus, politics, etc. Use your communication channels with your crew to talk fitness. Here are some ideas on what you can share:
HOME WORKOUTS
Send your crew home workouts. These can be workouts you type out, videos you film, or great workouts you find around the internet + youtube. Please note! I've seen lots trying virtual "live workouts" and other very technically advanced ways to stay connected through workouts. This is great, BUT can backfire if your tech knowledge is not perfect. In my opinion, keep things simple. There are so many online fitness professionals. You're a trainer, not a film producer or silicon valley tech start-up. The best fitness experiences to share should be straightforward and simple. Don't feel like introducing these tools to your clients will not have them coming back to you…that's just not true.
DAILY CHALLENGES
Create some fun daily challenges for your crew. These can be simple workout challenges, personal challenges, or nutritional challenges. Again, browse the internet, get ideas, get inspiration then make it your own. Nothing wrong with that.
RECIPES
We're all at home, cooking our own meals and probably getting tired of the same old. Send out some simple recipes. There are no shortage of these online. Find your favourite, try them out, take some pictures, then share with your crew. It's important for your crew to see your doing all these things too!
WHAT TO EXPECT WHEN GETTING BACK TO CLASS!
This is not the end of the world [I HOPE]. Show your crew that your planning some kick-ass workouts. Use this time to survey them on what they want to see. What type of workouts do they like, not like? Any ideas or suggestions from your clients? This is a time for your to step-back, analyze, and come back stronger then ever! Make sure to let your crew know when they come back to your business, classes, or training it will be the best they've ever seen!
BOOT CAMP IDEAS AND INSPIRATION – Weekly Youtube Videos
I've been posting boot camp related videos to my AXFIT youtube channel for over 8 years now! My passion is sharing and inspiring trainers around the world. I share my training style, which i'm truly honoured has become known as "The AXFIT Training Style", which was born out of my journey to give clients a fun, efficient, and no-nonsense workout that builds real results.