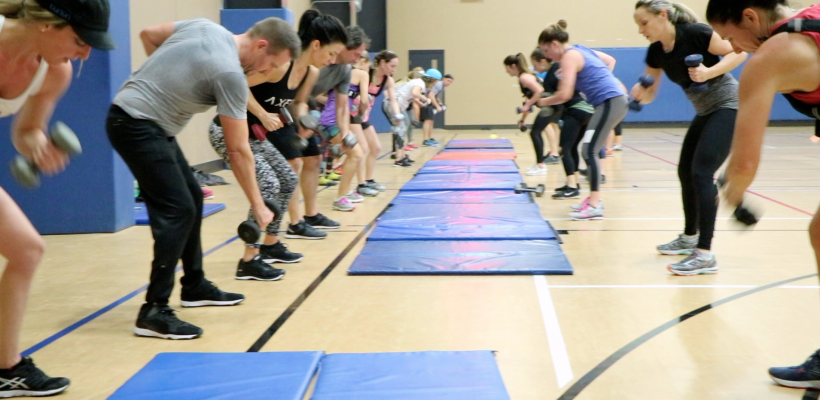 Muscle Factory Bootcamp Circuit Idea
THE MUSCLE FACTORY WORKOUT
Muscle Factory Bootcamp Circuit Idea
DESCRIPTION:
Client Rating: 12/10
Duration: 60 Minutes
Group Size: 1-60
Workout Categories: Indoor + Outdoor + Circuit + All-Levels + Advanced + Full Body + Weights + Fat Burn
Terrain: Indoor + Outdoor + All Terrain
Equipment: Light/Medium Dumbbells, 9 Pylons, Exercise Mats
Workout Description:
This is The Muscle Factory Bootcamp! This is a bootcamp workout i've wanted to turn into a trainers guide since we started publishing them. It's one of my absolute favourites to train and best of all clients love and feel it. This workout can be done by all-levels, but since it has such a "go at your own pace" factor, its still extremely challenging for even your most fit clients. For that reason, I give this workout a 12/10 difficulty. I always get trainers ask how to build long-term clients, well, this it it – by tossing in these fast paced, challenging workouts you keep all-levels fired up to keep pushing harder and sticking around for more!
We start off with insane ab & core drills. I wanted them on fire and engaged – ready for the killer Muscle Factory circuit ahead. Starting with the Muscle Factory Circuit clients carry around dumbbells with them for rest of the workout! Yes, thats right, they carry them around with them…everywhere. In the circuit we have 4 stations that clients go through at there own pace. I added in transition exercises between stations that make this circuit even more fun, even more challenging, and even more amazing! I just love it.
We finish off with 10 reps of 28 different on-spot exercises. My crew was sweating buckets and giving me lots of compliments after this phase. It's so satisfying to finish a workout with a full body blast everyone feels!
BOOT CAMP TRAINERS GUIDE INCLUDE:
BLUEPRINTS: Detailed instructions and step-by-step breakdown of the boot camp workout.
SNAPSHOT: A simplified version of the blueprints with a quick overview of workout instructions. The purpose is to provide a quick reference, printable copy, that has space for your own notes. 
EXERCISE GLOSSARY: It's funny how we have different names for the same exercises in different parts of the world. To avoid any confusion i've included a link to the Glossary of Exercises on the AXFIT youtube channel. Though, I recommend just watching the full uncut video. 
FULL WORKOUT VIDEO: The full video essentially brings you along with me during every second of the workout. I decided to make this full-workout video to give you a first person experience of being in my AXFIT class and take all the guess work out of understanding and using this workout blueprint.
COMPATIBLE ON ALL DEVICES
WELCOME LETTER FROM DANIELLE