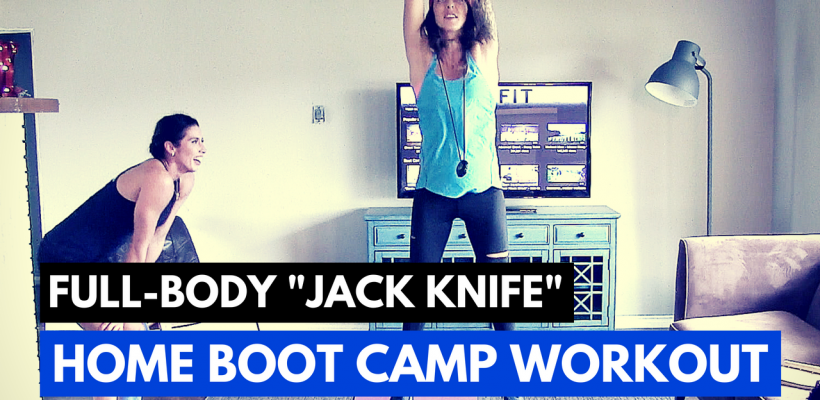 "Jack Knife" Boot Camp Training Ideas – Home Boot Camp Series
HOME BOOT CAMP TRAINING IDEAS SERIES:
What's up everyone, here with Jocelyn today so get ready for a challenge to keep up with her! This boot camp training ideas workout has something for everybody, i'm pulling out all the tricks today! It's a full body workout I've designed with simple exercises but paired and combo'd in a way that maximizes the efficiency and balance needed for you to get the most out of this 12 minute workout.
This is a 12 minute home boot camp workout that will do the trick, but hey, if your looking for a real hardcore workout, do it twice. All you need is a towel or workout mat and a flat surface. Indoor, Outdoor, Beach, wherever!
I've also included a printable image that you can bring with you anwhere by printing out or saving to your desktop or mobile device.
"Jack Knife" 12 Minute Full Body Workout
Client Difficulty: 9/10             Duration: 12 Minutes            Group Size: 1+
Workout Categories: FULL BODY
Terrain: Indoor, Outdoor        Equipment: Workout Mat Recommended
Workout Overview: In this video i'm with Jocelyn from AXFIT. She's been with me for many years and is a funny, kick-ass chick that is super fit. Do your best to keep up with her! This home boot camp ab workout can be done anywhere, so no excuses. In this boot camp workout we are doing 1 minute rounds of 12 different exercises. Very simple. Very effective.  Add this into your mix and get results. Let's do this.