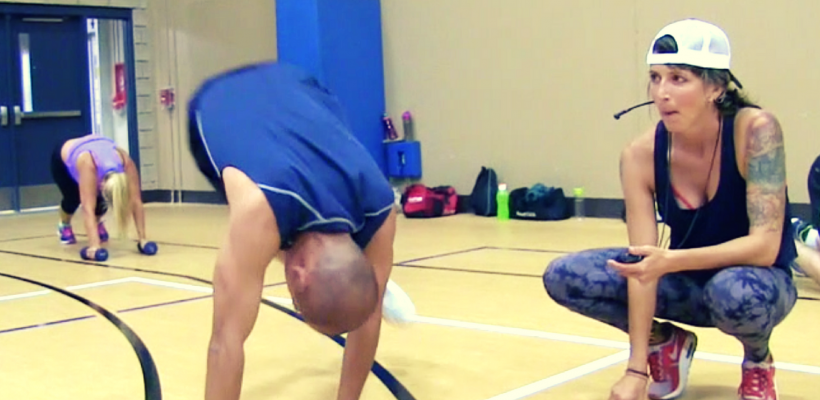 The TORTURE CHAMBER Workout! AXFIT Bootcamp Workout Idea
BOOT CAMP TRAINERS GUIDE:
TORTURE CHAMBER! 

Bootcamp Training Idea
DESCRIPTION:
Client Difficulty: 9/10
Duration: 60 Minutes
Group Size: 1-80
Workout Categories: Indoor + Outdoor + Heavy Weight + Cardio + Full Body + All-Levels
Terrain: Indoor, Outdoor
Equipment: Heavy Dumbbells, Medium Dumbbells, Light Dumbbells, Kettle Bells, 4 Pylons
*For Phase 2 you will need a set of light dumbbells for each client
*For Phase 3 determine the number of pieces of equipment needed by dividing the number in your class by the 4 stations (Example: 20 clients / 4 stations = 5 pieces of equipment at each station)
Workout Description:
Outdoor + Indoor + Heavy Weight + Cardio + Full Body + All-Levels
Whats up guys!? Were getting down and were getting gritty today. This is the Torture Chamber Workout!!! Will your clients make it through!? I absolutely love this style of training. As trainers it's our job to kick our clients ass every single workout. The Torture Chamber is a production, an experience, an event. Train this workout hard, build it up, push them through, and have them feeling it for the next week!
The torture chamber circuit is intense and builds real results. We mix heavy weights with intense cardio moves. We are working the big muscle groups and then dropping into fast cardio. Its a fun bootcamp that creates a full body workout experience for your clients that will keep them motivated, excited, and wanting more. Have fun with this one, I hope your crews likes it as much as mine did.
They are going to love this one! Let me know how it goes: adrenalinefit@gmail.com
BOOT CAMP TRAINING GUIDES INCLUDE:
BLUEPRINTS: Detailed instructions and step-by-step breakdown of the boot camp workout.
SNAPSHOT: A simplified version of the blueprints with a quick overview of workout instructions. The purpose is to provide a quick reference, printable copy, that has space for your own notes. 
EXERCISE GLOSSARY: It's funny how we have different names for the same exercises in different parts of the world. To avoid any confusion i've included a link to the Glossary of Exercises on the AXFIT youtube channel. Though, I recommend just watching the full uncut video. 
FULL WORKOUT VIDEO: The full video essentially brings you along with me during every second of the workout. I decided to make this full-workout video to give you a first person experience of being in my AXFIT class and take all the guess work out of understanding and using this workout blueprint.
COMPATIBLE ON ALL DEVICES
WELCOME LETTER FROM DANIELLE