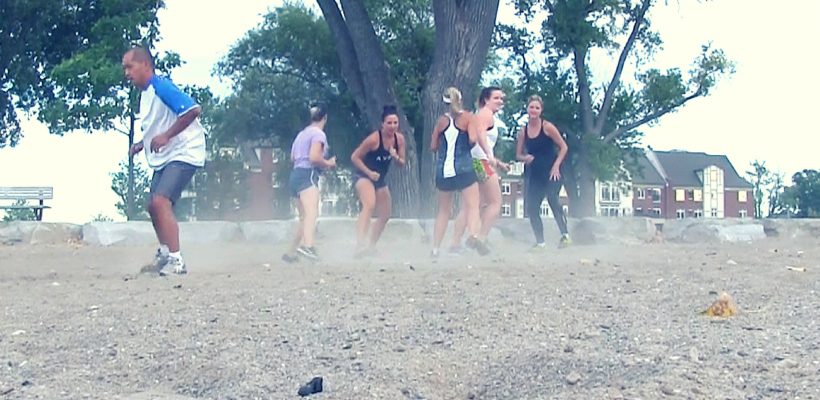 RUGGED Beach Bootcamp! Beach Bootcamp Workout Idea
BOOT CAMP TRAINERS GUIDE:
RUGGED Beach Bootcamp! 

Beach Bootcamp Workout Idea
DESCRIPTION:
Client Difficulty: 9/10
Duration: 60 Minutes
Group Size: 1-60
Workout Categories: Beach + Outdoor + Core + Cardio + Full Body + All-Levels
Terrain: Beach, Outdoors, Indoors
Equipment: 7 Pylons
Workout Description:
Beach + Outdoor + Core + Cardio + Full Body + All-Levels
The RUGGED Beach Bootcamp is out of this world! I love training on a beach. The sand makes even the most simple exercises much harder. Working out on a beach raises the adrenaline of your clients as they hear the waves crash, the seagulls chirp, and feel the sand beneath there hands and feet.
There are no breaks in this bootcamp and separates those who have grit from those who don't. I created a full-body workout with some extreme cardio mixed in. I also introduced some new advanced moves that will challenge and excite everyone. My crew loved the new FROGGER exercise!
Even though I did this workout on a beach, it's actually extremely versatile and can be done anywhere, even on a hillside or with weights. It's important to motivate your clients the entire hour as they will be feeling it mentally and physically right from Phase 1. 
They are going to love this one! Let me know how it goes: adrenalinefit@gmail.com
BOOT CAMP TRAINING GUIDES INCLUDE:
BLUEPRINTS: Detailed instructions and step-by-step breakdown of the boot camp workout.
SNAPSHOT: A simplified version of the blueprints with a quick overview of workout instructions. The purpose is to provide a quick reference, printable copy, that has space for your own notes. 
EXERCISE GLOSSARY: It's funny how we have different names for the same exercises in different parts of the world. To avoid any confusion i've included a link to the Glossary of Exercises on the AXFIT youtube channel. Though, I recommend just watching the full uncut video. 
FULL WORKOUT VIDEO: The full video essentially brings you along with me during every second of the workout. I decided to make this full-workout video to give you a first person experience of being in my AXFIT class and take all the guess work out of understanding and using this workout blueprint.
COMPATIBLE ON ALL DEVICES
WELCOME LETTER FROM DANIELLE