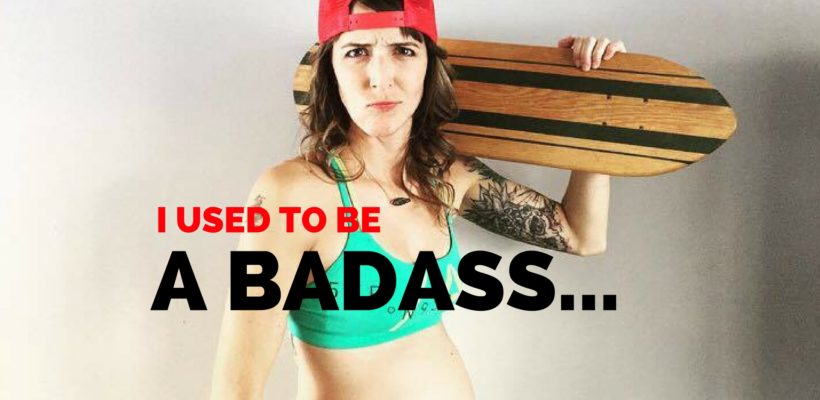 How didn't I know? | I used to be a Badass |
How didn't I know?
I had no idea I was pregnant until I was about 4–5 weeks in, which is F'd up if you ask me, I always thought I was pretty in tune with my body. So when the moms in my stroller-fit class told me to go home that day and get a pregnancy test from the Dollar Store, ( I guess there's are the most accurate and only a dollar..who knew) I was totally taken by surprise.
I will never forget that drive to the Dollar Store, it all came to me. I had been grossed out by coffee, my nails were insanely perfect, I had food issues, I could smell what the lady across the creek was wearing as perfume, a missing period and my boobs bounced as I drove over any bumps in the road. I covered my mouth with my hand in awe, at this point I knew I didn't even need the test, but I bought two $1 test anyways.
I got home, our property jammed with people, I ran up to Chris and whispered that I had two pregnancy tests and I knew I was pregnant. He was mid paddle lesson with a group by the dock, but I just couldn't hold it in. I tell Chris everything, there's no way I couldn't blurt it out the second I did even if it left him looking like he just saw a ghost while instructing this group on how to do a proper c-stroke. Sometimes I just have no control over holding back things that are on my mind. Like I couldn't wait 5 minutes until he was done?
Anyways, I had been sick for weeks, dizzy, could only eat toast with butter and was working 12–15 hour days. I had been to the clinic twice in August with the doctor sending me home both times telling me I was dehydrated.
Chris and I own a marina, we live here and run Urban Surf off the docks. So from May-October our property is a circus with school field trips, work parties, kids summer camps and everyday babes in bikinis. Long days working in the sun made sense as to why I was feeling the way I was so when the first test striked positive within a split second I was filled with so much emotions.
I ran outside in a tunnel vision not even noticing the crowds of people around me. Chris was taking a kayak off the top rack and our eyes met, I keeled over with my hands on my knees staring into his eyes from across the patio. People chillen in muskoka chairs between us and this huge news, Chris raised his eyebrows up as to ask me "is it true…was it positive"? I stood tall with my mouth wide and shook my head, yes. He had his arms around me in seconds with the biggest grin I had ever seen him make. "I'm going to be a dad"?
The second test was positive and the blood work at our first appointment was too. However our first ultrasound came back with shattering news, we were parked in the Jeep down our lot with my doctor on speakerphone. She told us that the baby was not there, that I had either miscarried or it hasn't implanted into the uterus yet. We hung up the phone and I cried, it's crazy how attached to this baby we were already, it had been only 2 weeks since that first test.
Implanted?? What that heck does that mean… we were new to all this lingo so we started googling around and came to a positive conclusion that the baby hadn't implanted. Chris is always one to keep us on the positive track so we went on with our lives waiting for the next ultrasound which was 3 weeks from that day. I tried not to dwell on it, but it didn't help that I starting seeing pregnant women everywhere. I still felt ultra sick so as much as that sucked it kept my spirits high.
On Oct 6th at 1pm, with a bladder about to burst, as Karen the Ultrasound tech announced to Chris and I " So here's baby #1…" "One…why the f#%k are you saying one"? "And here's baby #2"! Chris is jumping up and down behind her at this point as he has wanted twins his whole life. Me laying there with a globbery belly freaking out with both my personalities screaming out different things from my left and right shoulders.
We walked out of there with a few things; this picture of these two little sac's with white blobs in each one, our bodies filled with over pouring excitement/almost shitting our pants and the need to call our mom's more then ever. How were we supposed to control all this when we had a property full of people back at the marina.
Those two blobs were now going to change everything for us, I try not to let my mind wander too much thinking about it all because I get quite a bit of anxiety and the fear that I won't know how to handle two. I do know that we are blessed beyond extremes and with the strong partnership Chris and I have we can totally take this on together.
Now, how do we tell Rya?
We were all hanging on the couch in the house after school, Chris and I both unsure of how to let it out. She has been an only child for 13 years, she has always been back and forth about her liking the idea of us having a baby tangle up our perfect little party of 3. She asked "Can we have chicken strips for dinner"?, I answered with "we are having twins"! She thought it was some kind of food at first but then when the look on our faces remained in shock, she figured out this riddle and said "ouuUUuuuu". Yea not the reaction I thought she would have either, but then again she's 13 and up until now thought I hadn't even seen Chris naked. After she swallowed that pill she started to cry happy tears and put her hands on my belly. I sat there feeling ashamed like a teenager whose parents just found out I had sex for the first time. I felt like I disappointed her and that she will now look at me differently. However she is going into high school so I guess it's time I have "the talk", I just wanted to keep her youth forever you know? It does feel better now knowing I have the opportunity to do it all again with these two!!
Now months later, and a good talk with Rya, we all really just want to know what these two blobs are. The three of us feel (or maybe just want) that it's a boy and a girl, but in my dreams at night it's always two boys. So we find out this Thursday and I will write and possibly show a little video about it in my blog next Sunday!
Email me (Danielle Chevalier) if you wanna talk mama stuff or share your story with me: adrenalinefit@gmail.com
MORE AXFIT RESOURCES
BOOT CAMP IDEAS AND INSPIRATION – Weekly Youtube Videos
I've been posting boot camp related videos to my AXFIT youtube channel for over 8 years now! My passion is sharing and inspiring trainers around the world. I share my training style, which i'm truly honoured has become known as "The AXFIT Training Style", which was born out of my journey to give clients a fun, efficient, and no-nonsense workout that builds real results.