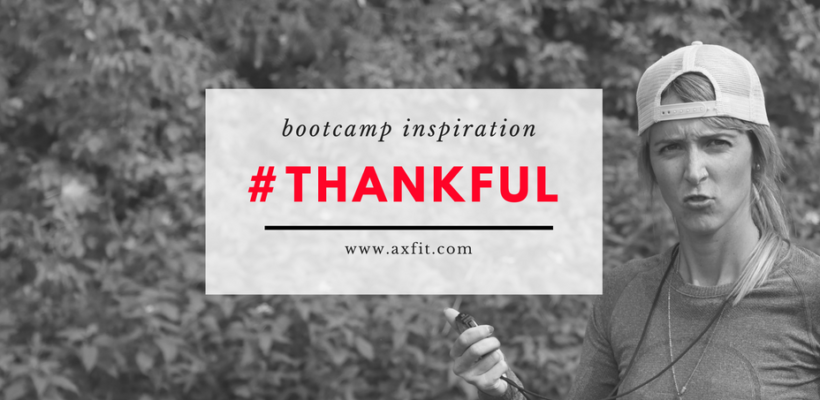 Boot Camp Training Ideas Inspiration: #THANKFUL
BOOT CAMP TRAINING IDEAS INSPIRATION
#THANKFUL
Lately, i've been very interested in what separates those who achieve their dreams and those who just dream. It's exciting to understand the common attitudes, thoughts, and awareness that helps successful people build their dreams.
Over the years i've noticed being #THANKFUL is one key to success. When you are thankful for what you have and for what others have around you; positivity is created. When you have positive energy you attract positive outcomes and positive people. Avoid being stuck thinking about what you don't have and start being thankful for what you do have. It's amazing how a little change in attitude can create a major change in your life and dreams.
Email me (Danielle Chevalier) if you have questions about your training or need some advice: adrenalinefit@gmail.com
MORE AXFIT RESOURCES
MID-WEEK MEET UP (MWMU) – Every Wednesday 
Subscribe to AXFIT to for new episodes of Mid Week Meet Up every wednesday. For the Mid-Week Meet Ups we talk about boot camp training ideas, resources, techniques, workouts, and more. Connect with trainers around the world and gain valuable insight into running a successful boot camp business.
BOOT CAMP TRAINING IDEAS – Weekly Youtube Videos
I've been posting boot camp related videos to my AXFIT youtube channel for over 8 years now! My passion is sharing and inspiring trainers around the world. I share my training style, which i'm truly honoured has become known as "The AXFIT Training Style", which was born out of my journey to give clients a fun, efficient, and no-nonsense workout that builds real results.