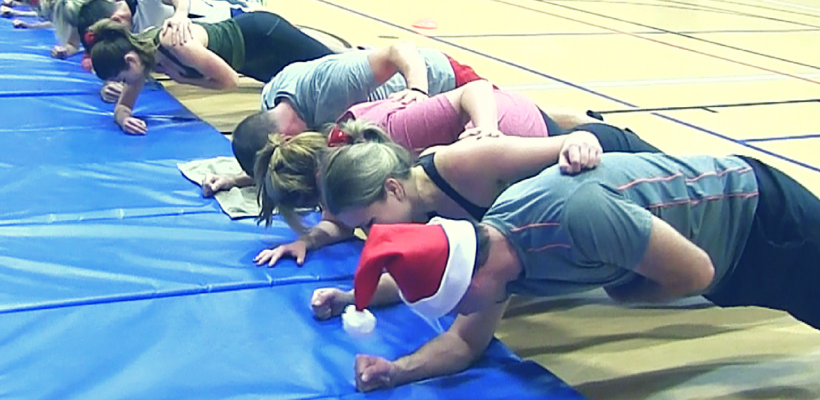 Team Bonding "Christmas Bootcamp" | Team Bootcamp Workout Idea
TEAM BONDING BOOT CAMP TRAINERS GUIDE:
Team Bonding "Christmas Bootcamp"
Team Bootcamp Workout Idea
DESCRIPTION:
Client Rating: 5/10
Duration: 60 Minutes
Group Size: 8-80
Workout Categories: Indoor + Outdoor + Fun + All-Levels + No Equipment + Team Bonding
Terrain: Indoor + Outdoor + All Terrain
Equipment: 7 Pylons, Exercise Mats (recommended), White Board or Large Poster Board + Markers, Prizes (recommended)
Workout Description:
This is my GO-TO Team Bonding Bootcamp. I used this as my "Christmas Bootcamp", but you could re-theme it anyway you want. It's the perfect bootcamp to do with teams, workplaces, schools, and your own crew. In this bootcamp I split my crew into teams of 4 and they compete for points in the 7 games. I gave the winning team a prize. All the drills are designed to challenge all fitness levels. You will need to make up a poster/whiteboard with all the games/points, then have teams write in their team names. This is a must have in your workout inventory, hope you enjoy it!
TEAM BONDING BOOT CAMP TRAINING GUIDES INCLUDE:
BLUEPRINTS: Detailed instructions and step-by-step breakdown of the boot camp workout.
SNAPSHOT: A simplified version of the blueprints with a quick overview of workout instructions. The purpose is to provide a quick reference, printable copy, that has space for your own notes. 
EXERCISE GLOSSARY: It's funny how we have different names for the same exercises in different parts of the world. To avoid any confusion i've included a link to the Glossary of Exercises on the AXFIT youtube channel. Though, I recommend just watching the full uncut video. 
FULL WORKOUT VIDEO: The full video essentially brings you along with me during every second of the workout. I decided to make this full-workout video to give you a first person experience of being in my AXFIT class and take all the guess work out of understanding and using this workout blueprint.
COMPATIBLE ON ALL DEVICES
WELCOME LETTER FROM DANIELLE