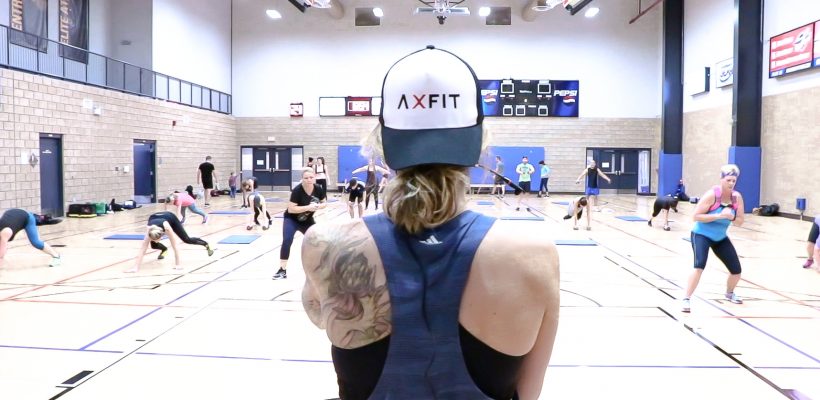 4 Station Bootcamp Circuit Idea
4-STATION POWER CIRCUIT
 BOOTCAMP TRAINERS GUIDE:
4 Station Bootcamp Circuit Idea
DESCRIPTION:
Client Rating: 9/10
Duration: 60 Minutes
Group Size: 1-60
Workout Categories: Indoor + Outdoor + Circuit + All-Levels + Full Body + Weights + Fat Burn
Terrain: Indoor + Outdoor + All Terrain
Equipment: Exercise Mats (recommended), *Light and *Heavy Dumbbells, 2 Pylons
*you should have a set of light a dumbbells for half the number of clients in your class and enough heavy dumbbells for 1/4 of the number of clients in your class.
Workout Description:
This is my 4-Station Power Circuit…WHOA…this one is intense. It's non-stop and will have your clients breaking a sweat BIG TIME! All you need are some dumbbells and exercise mats (recommended) if indoors.
The pre-ass kicker in Phase 2 is a Pyramid combo that combines major ab/core and cardio exercises with push-ups. Pyramids are a fun, challenging drill that gets everyone pushing each other to the next level. In Phase 3, we get into the main event. The 4-STATION POWER CIRCUIT. It's a intense full-body, fat burning, sweat inducing circuit with lots of variety to keep clients engaged and on their toes the entire workout. We go through 2 different rounds, 3 times each with ab/core exercises before rotating to the next station. It's non-stop!
Your crew will love this one, I know mine did. I had tonnes of compliments and everyone has asked to do this one again. Let me know how it goes for you or if you have any questions.
BOOT CAMP TRAINERS GUIDE INCLUDE:
BLUEPRINTS: Detailed instructions and step-by-step breakdown of the boot camp workout.
SNAPSHOT: A simplified version of the blueprints with a quick overview of workout instructions. The purpose is to provide a quick reference, printable copy, that has space for your own notes. 
EXERCISE GLOSSARY: It's funny how we have different names for the same exercises in different parts of the world. To avoid any confusion i've included a link to the Glossary of Exercises on the AXFIT youtube channel. Though, I recommend just watching the full uncut video. 
FULL WORKOUT VIDEO: The full video essentially brings you along with me during every second of the workout. I decided to make this full-workout video to give you a first person experience of being in my AXFIT class and take all the guess work out of understanding and using this workout blueprint.
COMPATIBLE ON ALL DEVICES
WELCOME LETTER FROM DANIELLE