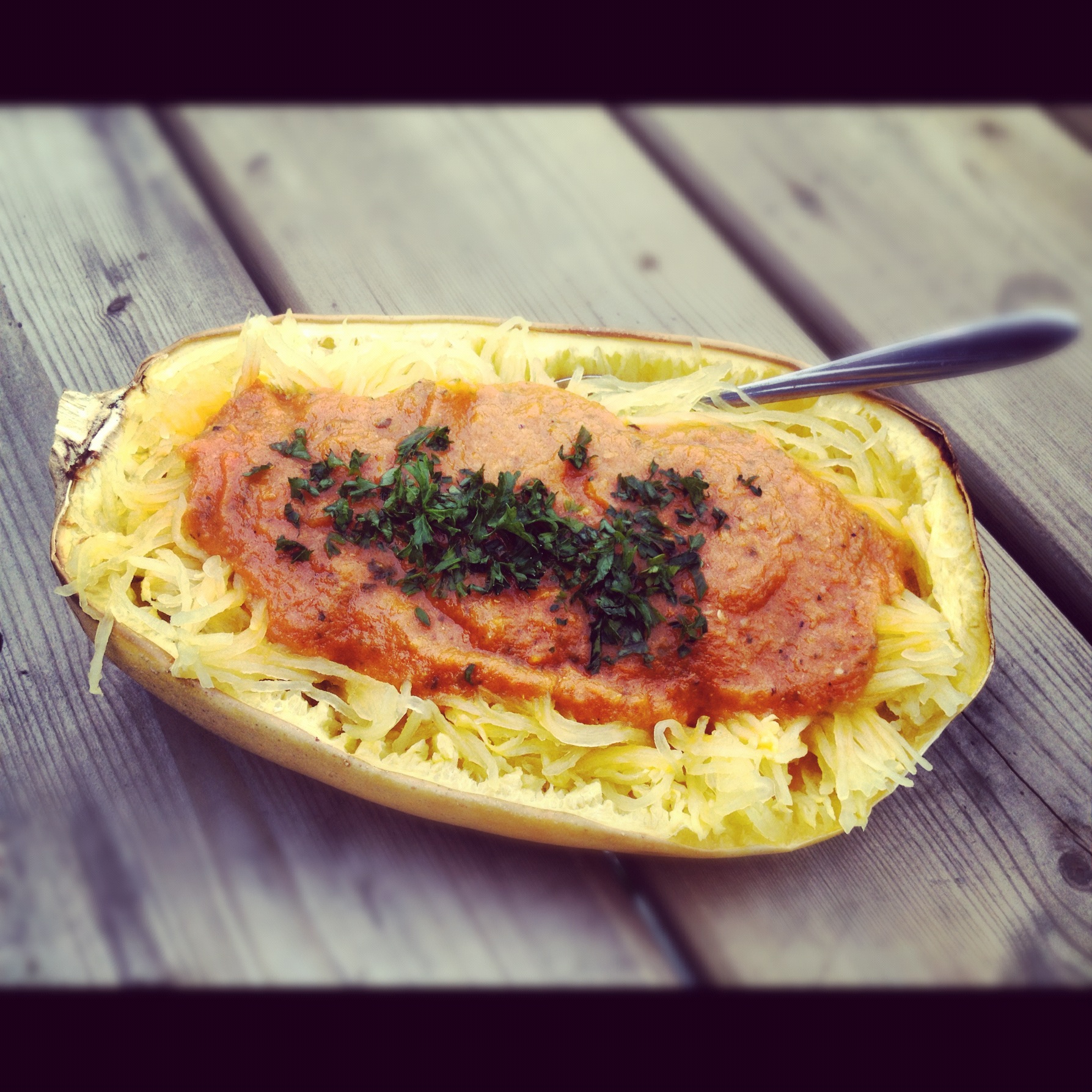 Healthy Spaghetti Squash [RECIPES]
SPAGHETTI SQUASH 
My good friend Marie  has been bugging me for months now to try spaghetti squash instead of rice pasta or my usual raw zucchini noodles i make.  Now that it's squash season I though I would give it a try. I baked the squash in the oven while I made the sauce (recipe below) and let me tell you how amazing it turned out. I think this recipe would be perfect for Adrenaline's FitLife challenge contestants but the sauce itself is also vegan, gluten free, and very healthy for you. I even used the squash as a plate…easy clean up!!! Who doesn't love that?
PASTA SAUCE RECIPE
1 large can organic diced tomatoes – make sure you buy sodium free/no salt (PC Presidents Choice has a Blue Label can that is great)
3 roasted red peppers cut in chunks
3 garlic cloves
1 large or two small zucchini cut in chunks
2-3 tsp of grape seed oil
1 cup water
Bake squash in oven till done. Add all your veggies and sauté for 5 minutes then add tomatoes and water. Cook for about 20 minutes then let it cook for a bit. After it has cooled transfer the sauce into a blender and blend till smooth.  Once your squash is ready fluff it up with a fork and pour some of the pasta sauce on top. Enjoy 🙂
Feel free to add anything else to the sauce like chili flakes, mushrooms and onion.
If  you have a high speed blender like VitaMix or BlenTech you don't have to let our sauce cool, but for regular blenders please do because they cannot handle the heat and will explode having hot sauce fly everywhere.
Let me know how you enjoy this recipe or any variations you added. We have plenty more great recipe's to share!