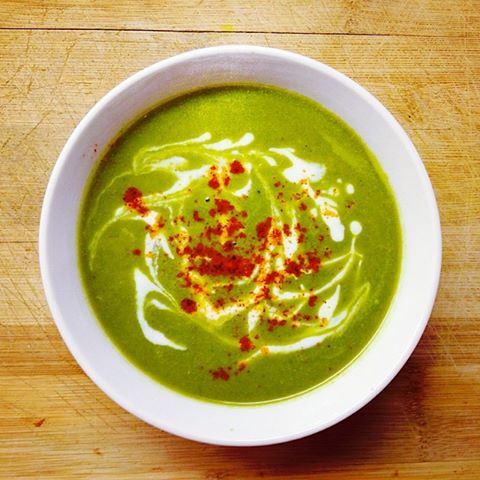 AXFIT Power Bowl – Green Awakening Soup
Okay, so now were making "Green Soups"?
Right now you may be second guessing your commitment to eating right and taking our recipe and healthy eating advices…you may be wondering what's next…has she gone crazy, does she not actually enjoy eating… "Green Soup" !?! What's Next?…..
HOLD that thought and let me tell your this:  "Do not judge this book by it's Cover"!
THIS GREEN AWAKENING SOUP RECIPE IS GOING TO OPEN YOUR EYES & YOUR TASTE BUDS TO THE POWER OF GREEN!
CK and I absolutely love this soup (and yes I know I say that about everything – but this time – IT'S TRUE LOVE). After tasting it yesterday CK was blown away with it's taste and couldn't hold back from having more than 2 Big Bowls of it. The best part, this soup is loaded with everything good! Let's Take a look…
First let me describe the soup. This soup is so rejuvenating and the smooth silky texture is so light on your tongue. With a description like that, you wouldn't expect its actually packed with a powerful combination of green detoxifying vegetables.
I felt an instant 'pick-me-up' when I started eating this, maybe it's just knowing all the powerful ingredients that are in this bowl without the additives and sodium of store bought soups.
Start Making your Own Soups! Get in the habit of making soups – It literally takes minutes to do and you really can't go wrong with it. It's a great way to get in all your nutrients, vitamins, minerals, and even protein. I have measurements here but you can just grab handfuls of these veggies and saute them away. As long as your stock covers just over the ingredients by a few inches you are good to go.
This soup has approximately 38 grams of protein per recipe, which is about 9.5 grams per bowl.
INGREDIENTS
2-3 Tbs Virgin Olive Oil
1-2 Shallots
2 cloves Garlic
1/2 cup Leeks
1 cup chopped Asparagus
1 cup Broccoli
1/2 cup Kale
2 cups Spinach (half a bag)
1/2 chopped Parsley
4 cups of Chicken Stock/or Water  (if store bought get the NO SODIUM one)
1 tsp Sea Salt
1 tsp Cracked Pepper
Slice of Lemon Squeezed
Lemon Zest for garnish
Cayenne or Paprika (if you don't want a spice to it) for garnish
2-3Tbs of Cream for garnish
sprinkle of Parmesan
RECIPE
In a large pot, saute  garlic, shallots and leeks in olive oil until tender.
Add asparagus, broccoli and mix to heat and coat with flavours.
Toss in kale, spinach, parsley and the salt/pepper, saute for 2-3 minutes keeping close eye and mixing, squeeze the lemon.
Pour in stock and cook for 10-15 minutes.
Place contents in blender, Vitamix or use a hand held immersion blender, puree until silky smooth.
Place back into pot on low heat well you prep your bowls, spoons and garnish.
Garnish is Optional: (however it does add a nice flare to the taste)
Place the cream in a stainless steel bowl and whisk it really fast to thicken it up.
Add a little zest of a lemon and the parmesan and whisk a little more.
Spoon this light mixture over your soup lightly then with the tip of a knife just slice through the very top of the cream and move it around a little making swrils.
Sprinkle paprika or just a little cayenne if you want a touch of spice to it.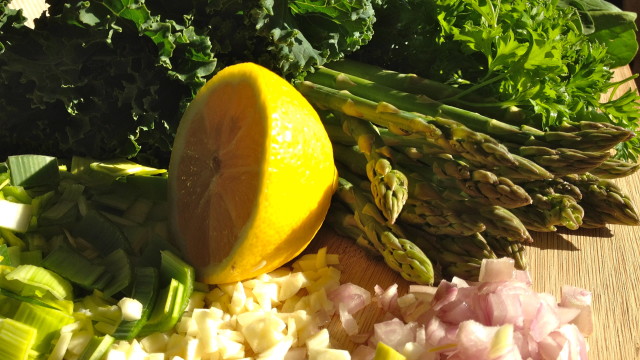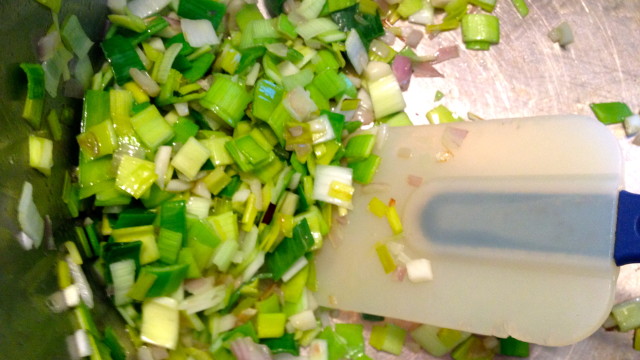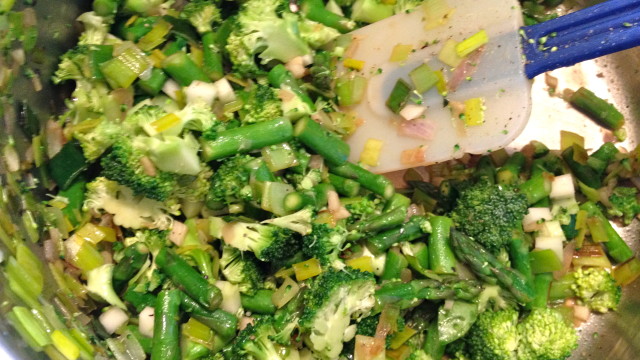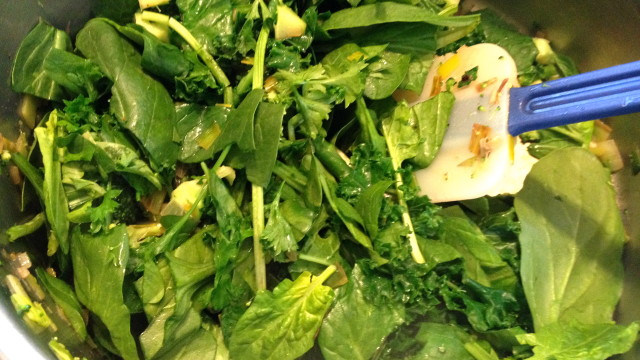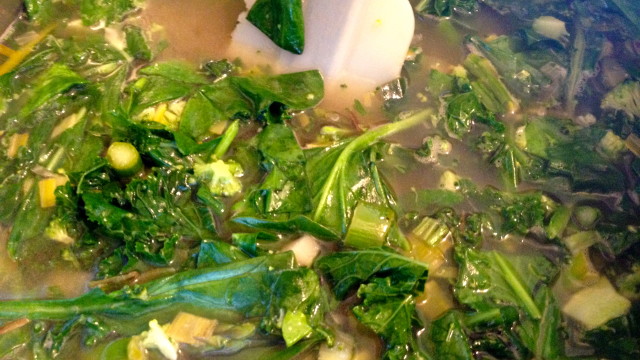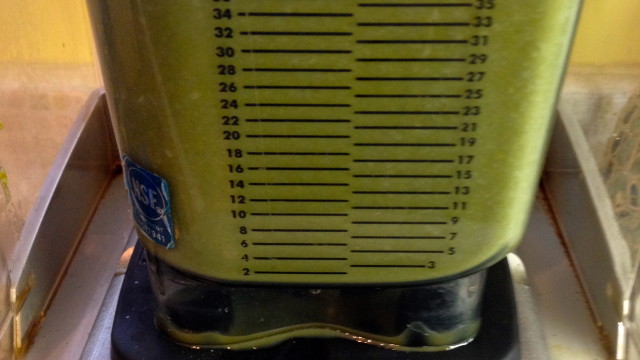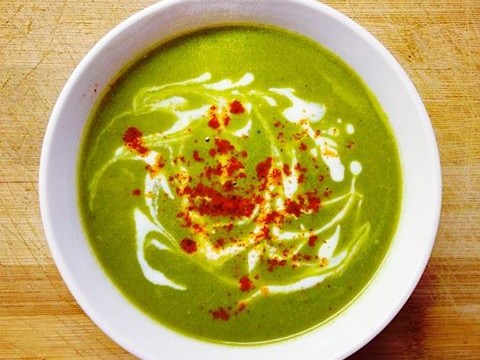 LET ME KNOW WHAT YOU THINK…AM I CRAZY FOR LOVING THIS NEW GREEN SOUP RECIPE?!