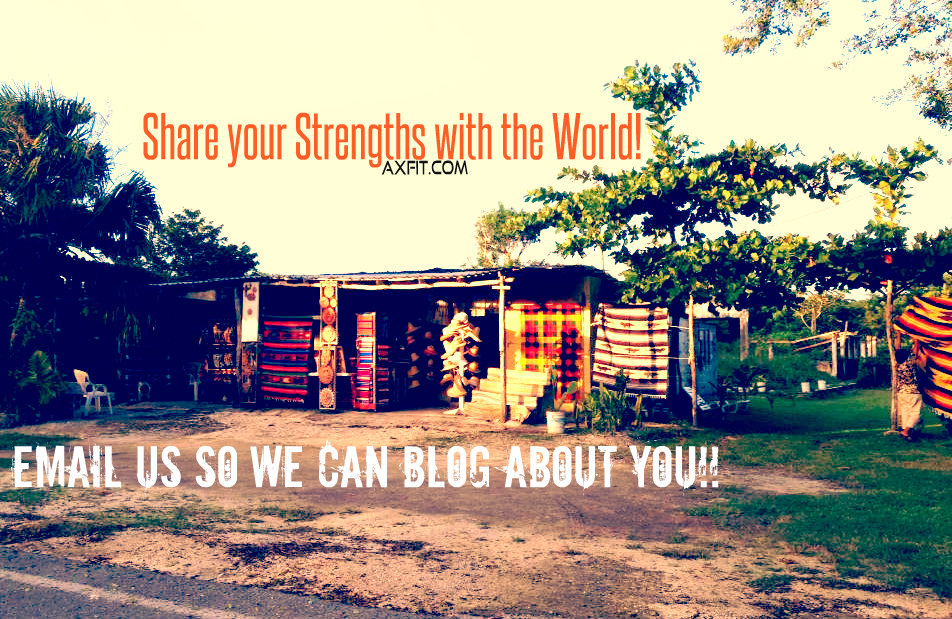 Share your Strengths
Hey guys, so as you may have notice I like to blog about everything!!    AXFIT is not just about fitness to me, we are building a brand and I want to share all that we are passionate about to create this healthy, happy lifestyle we all want.  We also love sharing sweet finds for 'gift ideas' ,  yummy recipes and most of all we love to blog about the entrepreneurs out there in the world and share your stories and successes in life.  This only motivates others, whether you know them or not, reading your story can change someones whole life.
I don't care where your from, if you read this and you have something you do that brings improvement to our world and you want to share it with us – then please email me at adrenalinefit@gmail.com      If you live locally here close to Windsor then I can even come to you and take pics, do some videos with you, whatever you would like to get what you do out there more.  If you have a product you want me to try and blog about, I am always up for that. I love trying new things and sharing all the great things I love about a product.
Maybe you
Started running from couch to 5k…10k..marathon, tell us your story?
You have some healthy recipes or food products to sell
Do you own a unique shop or studio
You lost a tone of weight and you want the world to know.
An artistic talent or product for sale
You make clothes, jewellery,
Goals you have set and want to put them out there so you are held accountable.
Really we would love to showcase anything that brings positive motivation into our world, to inspire others and maybe help light a fire in someone else to go after their dreams in life.
Christmas is here, YAY my FAVORITE time of the year.  I love buying handmade gifts for people,  who has a great handmade product that you want the world to know about and buy fro you. Or you sell edible gifts, baskets or desserts.
Share with us, even if it's sharing your links and pics on our
facebook wall
, we don't mind at all, we have a growing fan base from all over the world.
So let's share with them what you got going on!!!