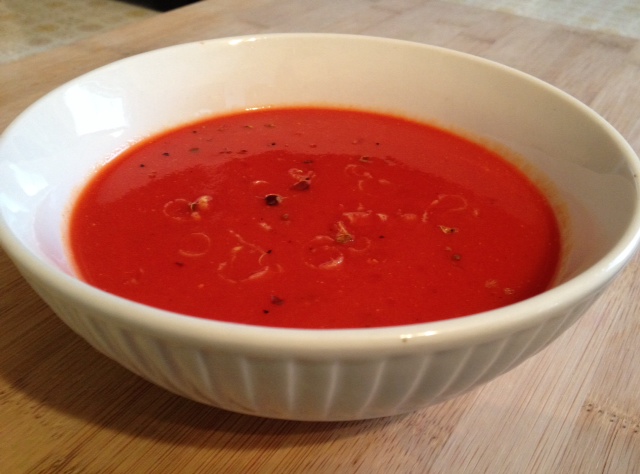 AXFIT Power Bowl – Blood Cleansing Aphrodisiac Soup
Did you read the name of this soup? "Blood Cleansing Aphrodisica"
Do I need to say more?! If all you focused on was the APHRODISIAC part, then no, I may have lost you already.
BUT…
If you haven't already jumped to the recipe and into kitchen to whip up this culinary masterpiece, let me enlighten you with what puts the "Blood Cleansing Aphrodisiac Soup" on the list of AXFIT Power Bowls!

Beets are Natures Viagra!
Beets as you might expect are a major ingredient in this soup, and yes, it's not urban legend…beets are natures viagra.
*NERD ALERT* Beets have a high amount of boron, which is directly related to the production of sex hormones.  Beets improve Blood flow throughout your whole body. So through a chain reaction the body will convert the nitrates in beets into Nitric Oxide, a compund that enhances our blood flow. Nitric Oxide is also the most common ingredient used in pre-workout supplements. Anything that increases blood flow and nitric Oxide will also improve erectile strength.
Beets are super HIGH in many Vitamins and Minerals
Potassium, Magnesium, Fiber, Phosphorus, iron, vitamins A, B & C, beta-carotene, beta-cyanine and folic acid are just a few of the many nutrients that can be found in Beets.
If ya don't know, now ya know…We all need to start adding these little beauty's to our weekly menu, they are just what our bodies need and crave.
The taste is "energizing and tomato-eee"
This soup taste so good (as described above) and gives you an instant jolt of blood flow after just a few spoonfuls. I love soups you can feel! This potent red functionally cleansing culinary and nutritional masterpiece is one I can truly enjoy on multiple levels…I hope you can too.
The lemon zest on top adds huge to the taste of this soup so if you don't have a zester GET ONE!  Until you get one even a little squeeze of lemon on top is good!
Overall, how can I not love this Power Soup? Beet juice decreases your blood pressure which will make that brain of yours work more efficiently.
Blood Cleansing Aphrodisiac Soup Recipe
Ingredients:
2 tbs Olive Oil
2 Raw Diced Beets
1 Diced Red Pepper
2 Diced Apples
1 Large Diced Carrot
2 Shallots
3 Cloves of Garlic
1 Tbs Apple Cider Vinegar
2 Tbs Tomato Paste
2 Diced Tomatoes
Dash Sea Salt to taste
Ground Pepper to taste
2 Tsp Ground Turmeric
Squeeze of lemon
3-4 Cups of Stock (if your buying it get NO-SALT ADDED)
1 can of coconut milk (you can buy at any grocery store)
Lemon Zest to garnish on top.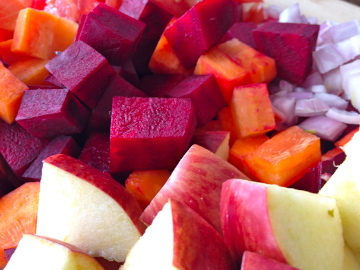 Recipe: 
In a pot heat up the olive oil on med-high heat.
Saute the beets, red peppers, apples, carrots, shallots and garlic until they are tender and smelling yummy. Turn heat down to low-med.
Deglaze the pot with apple cider vinegar and mix around.
Drop in tomato paste and tomatoes and mix.
Dash in the salt & pepper and turmeric.
Squeeze the lemon and pour the stock in.
Simmer for 15-20 minutes
Puree with hand immersion blender or pour into Vita-mix.
Once pureed pour back into pot and then add your coconut milk.
Cook at low-med heat for 8-10 minutes.
Pour into bowls, zest a little lemon on top , a little cracked pepper.
Serve and ENJOY!!!!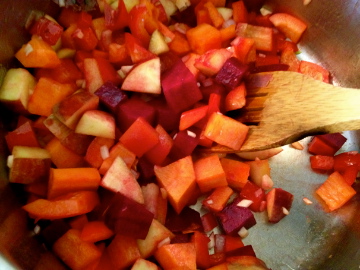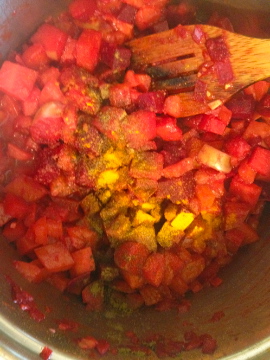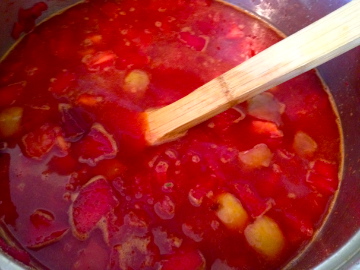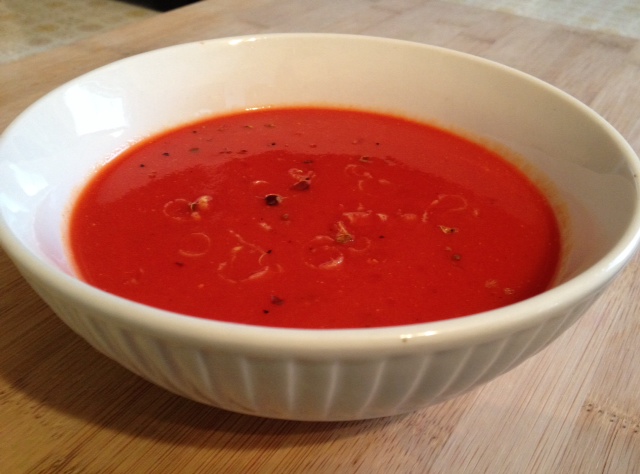 Everyone in your house will LOVE this soup, it's so delicious and packed with a punch of good health for you and your whole family. Making soups is so simple, any of these ingredients that you may not like, simply don't use.  Try different combinations of veggies, herbs and spices, cookings fun and your body will thank you for it.
Add Beets to your diet NOW!!!